Mobiles ▾

Laptops ▾

Tablets ▾

Air Purifiers ▾

TVs ▾

Refrigerators ▾

Microwaves ▾

Washing Machines ▾

Air Conditioners ▾

More Categories ▾
Join The "
#KajuKatli

For Android" Campaign
Update 3: Let's SIGN UP for ANDROID LADOO CAMPAIGN

Update 2: New Android OS is now #kajukatli #kitkat.

Update 1: Kaju Katli Has Reached Larry Page & Andy Rubin


With over 500 million devices out in the world, Android is the single largest modern mobile OS. And it is open source, supported by dozens of manufacturers globally. Ever since Google unveiled the first Android back in 2008, smartphone penetration and growth has multiplied every passing quarter. Today budget is no longer a constraint to own a smartphone. We want to Thank Google for the wonderful gift to mobile computing! But at the same time, also ask - why this Kolaveri with India?
At the last I/O event Google proudly announced that Android has grown 500% YoY in India. That's Huge! And being closer to the scene given the nature of our business, we sure know that Android dominates both the indexes, i.e., sales and popularity. What affects us is Google's choice of names for Android versions. We love JellyBean, but have grown up eating Jalebi. Honeycomb may be delicious, but we crave for Halva.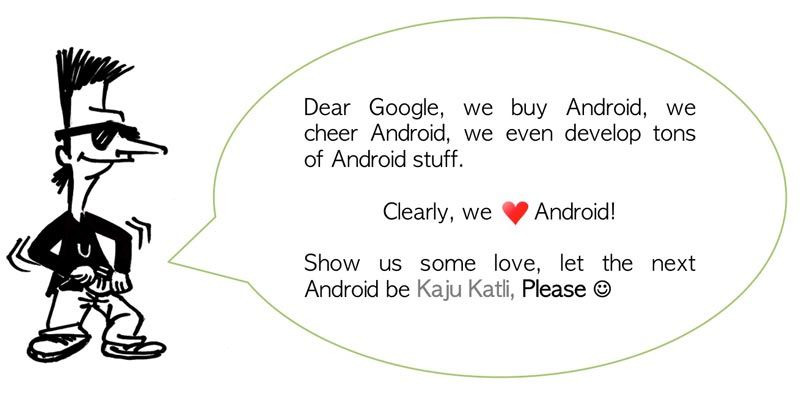 On behalf of Android fans in India, we are launching The Kaju Katli Campaign. KajuKatli is delicious, a part of our lives since childhood and every mention of the delicious Cashew & Ghee mix excites us. Let's urge Google to name the next version of Android as Kaju Katli. It even goes with their naming scheme that has risen in alphabetic order:
Cupcake > Donut > Eclair > Froyo > Gingerbread > Honeycomb > IceCream Sandwich > JellyBean > K...!
Sign the campaign below and share it with the world. We would send a delicious box of Kaju Katli and your messages to Google CEO, Larry Page and Android Founder, Andy Rubin!
8147 people supported Kaju Katli for Android
Trending Mobile Phones
On Pricebaba
100 Million Smiles & Counting
© 2012-2023 Pricebaba™ All rights reserved. All trademarks / logos / brands are the property of their respective owners.
Report an error on this page