The Google Play Store is an extremely popular destination for those looking to download the latest Android apps, games, software, and other things. Accessing the play store is easy. All you have to do is click on the Play icon on your smartphone home screen, and you will be taken directly to the Google Play Store.  You can download the suggested apps or use the search bar to look for more or specific applications you wish to download. You can download work apps like Google office,  games,  music streaming apps like Spotify and SoundCloud,  social networking apps like Instagram and Facebook,  and much more from the Google Play Store.
 What are Google Play Gift Cards?
A Google Play gift card is nothing but a virtual token that allows you to purchase applications. A person can buy content on Google Play if you give them a Google Play gift card.  If you possess a gift card, you may redeem it and learn how to use it. Apps, music, and more can be purchased using  Google Play gift cards.  Different retailers online, including Walmart and Amazon, sell Google Play gift cards.
Also Read: How to buy and recharge ICICI Bank FASTag using Google Pay
How to Redeem a Google Play gift card?
1. Redeem using your Computer
Visit the website of the Google Play Store.

Click on redeem on the screen's left side.

Enter the required code.

Confirm that you wish to redeem the money

Enjoy the credit you get.
2. Redeem from Google Play gift emails
Access the email containing your Google Play card.

Click on the redeem button. (this could say "eGift center" or could be a general redirect link)

You will be asked for your email to validate your card by a prompt.

Select "Click to redeem."

You will get redirected to the Google Play website.

Confirm your account.

Enjoy the credit 
Also Read: Add me to search: how to create Google People Card and add yourself to Google search
3. Redeem when purchasing on Google Play
At the beginning of the Purchase process, select the Google Pay icon to choose the Google payment method.

Pick "redeem code' from the options that show up.

Enter the code which is found on the gift card.

Click on "Redeem"

Confirm the purchase

Enjoy the new investment and your credit
How to buy a Google Play recharge card code?
1. Amazon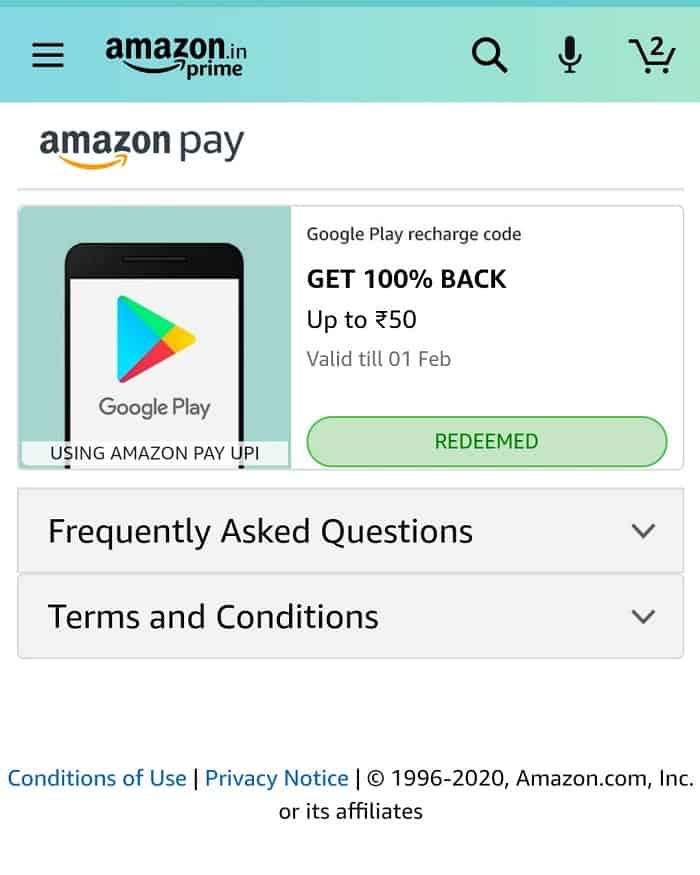 Visit the Amazon pay page on Amazon.

Click on Google Play,

Enter any amount between Rs10 and Rs 5000

Follow the instructions on the screen to make your payment
Also Read: Amazon Great Indian Festival Sale 2022: Dates, deals, offers, discounts and more
2. Google Play
Click the option to "buy online."

Select your online retailer

Select the card amount

Choose a delivery method

Make a Payment
3. Woohoo
Open the woohoo app

 Select the Google Play option

 Choose your denomination

 Make your payment
4. PayTM
Login to PayTM

Google Play icon.

Enter the recharge amount you want to fill up your Google play with

Choose your Google Play promo codes and get cashback and other offers
Also Read: Paytm Card: what is it, how to buy, how to activate, how to recharge, and more
Google Play Gift Voucher Offers
You can also redeem Google Play gift voucher offers online.  When paying for the Google Play coupon for recharge, simply enter the gift voucher code or a number, and you will be able to get your discount. 
FAQs
1. Why can't I redeem my gift card?
Ensure the entered code is accurate.  Refrain from using spaces or dashes when entering the code,  and ensure that you enter the right letters.  If your gift card does not work after all this, it may not be activated.  If you purchased your gift card at a physical stop, it has to be started by the seller upon purchase.
2. How to get Google Play Store Credits Free of cost?
Answer quick surveys to earn Google Play credits free of cost. After downloading the app, there are some simple questions to answer.  You will then be served around once a week, although the frequency may differ.
3. Can Google Play Gift Cards be used for in-app purchases?
Yes, you can make in-app purchases using Google Play gift cards.  Your Google Play gift card needs to be redeemed in your Google account before doing so.  By saving, the recharge amount becomes available in your Google account, which can be used directly for in-app purchases and paid app downloads.
4. What are the benefits of the Google Play Redeem Code?
This code can be used while making Google Play purchases.

The redeem codes can be used for filling up subscriptions.

 Using the redeem code, users can buy a book.

 Using these redeem codes, users can also get discounts.
5. Do gift cards expire?
Google Play gift cards do not have any fees or expiration dates.  You can buy these Google play cards whenever you like, and you can use them whenever you want without worrying about any expiry date.