With the rise of pollution and global warming, electric scooters are getting a hype and definitely are a much eco-friendlier option. And Hero Electric Optima scooter is worth the buy because of its good battery range, milage, attractive colours, and design. It is a you're your stylish scooter and drives like butter, so get your hands on the trending scooter of all time.
Hero Electric Optima Launch Date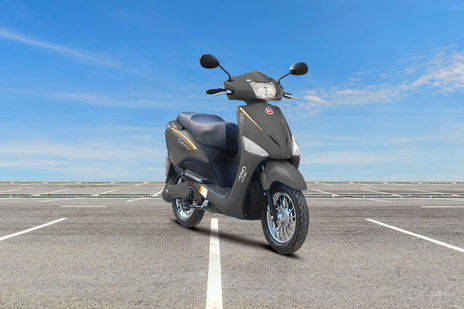 On October 16, 2020, the Hero Electric Optima was introduced in India. Under its City Speed line, the automaker had introduced 3 electric scooters in this market: the Hero Optima-CX, Hero Nyx-HX, and the Hero Photon-HX.
Hero Electric Optima Price and Availability In India
There are four variations of the Hero Electric Optima. As of mid-2020, the Lead Acid variant of Hero Electric Optima costs Rs. 44,895, Lithium-ion variant Rs.59,167, ER variant Rs.69,953, and E5 variant Rs.85,194. Please visit our price section to learn more about the Hero Electric Optima's on-road cost. Depending on the level of governmental subsidies, the ultimate price will decrease even further. It ia available in almost all the states having Hero showroom.
Hero Electric Optima Features
Range and Power
Claimed Range of Hero Electric Optima is 45 km per single charge. Its milage its 60 km. The 250watt battery powering the Hero Electric Optima's 0.33bhp output is paired with an automated transmission. While Optima CX has range of 140 km in one charge.
Battery
There are two versions of the Optima HX: single battery & dual battery. The Optima HX has a range of 82 kilometres with a single battery, and 122 kilometres with two batteries. The current charging time is between four and five hours. Both variations have a top speed of 42kmph. Registration is required for this quick speed scooter. The battery has a 51.2 V/30 Ah capacity. The battery lasts for 4 to 5 hours.
Electric Motor
There is 550 – 1200 Watt electric motor fit in the scooter. A 550W BLDC hub motor, delivering 1.2kW of peak power, powers the Optima CX. It is connected to a detachable 51.2V, 30Ah lithium ion battery pack, which requires 4-5 hours to fully charge. The e-top scooter's speed is listed at 45kmph. The CX standard is said to have an 82 km range, while the CX ER is said to have a 140 km range.
Hero Electric Optima Specification
Electric Optima CX's motor produces 550 W of power. The Hero Electric Optima CX has a dual-wheel braking system with both rear and front drum brakes. 
In the Indian market, there are two variations of the Hero Electric Optima  scooter:  Comfort Speed (LX) and city speed(HX). The high-speed model of the scooter line is known as the HX variation. 
Single  and dual battery models of the Optima HX are both offered. The Optima HX has a range of 50 km on a single charge, with Optima CX having range of 140 km, while the twin battery model has a range of 122 km. 4/5  hours are needed for charging. Both variations' maximum speed is 42kmph. This quick speed scooter has to be registered.
Hero Electric Optima Design
The LX variation resembles the HX version in terms of styling. A front blinker located on the apron and a wide, comfy seat are a few of the characteristics that go with the streamlined design. Four different colours are available: Red, blue, Grey, and White. 
The scooter's components include twin rear shock absorbers and telescoping front forks. Drum brakes on both ends perform the anchoring functions.
Hero Electric Optima Colours
Hero Electric Optima scooter is available in four varieties of descent colours: White, Red, Grey and Blue.
Hero Electric Warranty
For the range of lithium-ion electric scooters it sells, Hero Electric has established a 5-year 
warranty. The entire scooter is covered by a comprehensive warranty. With the exception of 
the charger and battery. According to the business, there are no catches to the convenience.
And at no additional expense to clients. Such a broad guarantee is unique to the electric 
scooter market.
Customers who buy a scooter with a lithium battery between January 1 and March 31, 2021, 
are eligible for a warranty. The programme, which will last through Q4 FY21, might assist the 
company in increasing sales for the relevant quarter. and give FY21 sales one more boost 
as a result. With the slowest start possible, this time has been the most unpredictable. 
When used for personal riding, the e-bike manufacturer guarantees that its Li-ion driven 
batteries have a three-year warranty. The warranty is only good for two years if the e-bike is 
rented out. Additionally, thanks to the money you save on gasoline year-round, replacing a 
battery if it is broken after the warranty period has passed will only cost a little amount. It's
crucial to maintain your electric scooter clean and clear of any debris that could harm it. After 
each ride, wipe down your electric scooter. Maintain your electric scooter, especially the 
battery, even if you aren't going to use it for a long. Use only the original charger because
other chargers' varying voltages can harm the battery in your electric scooter. Regardless of 
whether you want to use your
scooter battery the next day or not, keep it in the right 
temperature range when not in use.
Hero Electric Optima Review
For commuters, the hero electric photon is the finest choice. The scooter's features and performance are enough for city use, and the price is reasonable. It looks dynamic and costs less to maintain than fuel bikes. Hero Electric Photon's top speed is 45 kmph, it has a 90- kilometer range, and a full charge takes 5 hours. The battery in it is carefully designed to withstand the most extreme Indian climatic conditions.
Hero Electric Optima Competitors
There are some scooters that are competitors to Hero Electric Optima:
Ola Electric S1 vs. Hero Electric Optima HX.
Kawasaki Ninja 300 vs Honda CB300R.
TVS Apache RTR 160 vs Bajaj Pulsar 150.
TVS Scooty Pep Plus vs. Honda SP 125.

How to Book or Buy Hero Electric Optima

It is now easier to buy Hero Electric Optima, as it is now available to book online in three
easy steps:
1. Decide on a bike and a dealer.
Choose your preferred colour for the bike you want to ride. Select a dealership close to you
by entering your location after you're finished.
2. Enter Your Personal Details
Your name, phone number, email address, and other personal information should be
entered.
3. Add your Payment Info
Pick the mode of payment that you want. To finish the payment, provide the needed
information.
Alternatively, you can buy the Hero Electric Optima at your closest dealership showroom.
Hero Electric Optima Latest News
https://www.bikewale.com/news/hero-optima-hx-electric-scooters-gets-more-affordable/
After the FAME-II subsidy was raised, Hero Electric lowered the cost of the Optima HX line.
https://www.news18.com/topics/hero-electric/
Hero electric scooters updates and news on News18.
https://economictimes.indiatimes.com/topic/hero-electric-optima
Check out Latest news, videos, updates and photos of Hero Electric Optima on The
Economic Times.