In recent times, most brands have proven unsuccessful of keeping pry eyes of leaksters off their products. Samsung has been the latest victim with almost everything about the upcoming Galaxy S9 and S9+ revealed. Here's everything you need to know about one of the most awaited flagship devices of the year.
Starting off with the design, the Galaxy S9 and S9+ will retain visual traits from the existing S8 and S8+ featuring a metal-glass sandwich body. On the front, the bezels seem to have reduced even more in comparison to previous year's flagships. The glass still melts around the corners, allowing for the edge display, which looks really fantastic. On the back, there have been some changes as well. The highly criticised fingerprint sensor has now been relocated to a more reachable position underneath the camera module instead of beside it. The heart rate sensor continues to exist as well, alongside the LED flash. The S9+, which is the larger variant, will feature a dual-rear camera setup, making it the second device from the house of Samsung to have two camera sensors on the back.
Speaking about what lies underneath its hood, the flagship device will feature top-notch specifications including the brand new Snapdragon 845 processor which is expected to be up to 25% faster than the existing one on the Galaxy S8 and S8+. However, in markets like India and Asia as a whole, Samsung fits in their own Exynos chipset which is comparably faster than its counterpart by a slight margin. The Galaxy S9 and S9+ will come with the brand new Exynos 9810 SoC. If RAM is to be considered, and it should, especially considering how heavy the Samsung Experience skin is, the regular model will come with 4GB whereas the S9+ will ship with 6GB of RAM. If storage is what you seek, you may be slightly disappointed to hear that after the price you are going to pay, you will receive only 64GB of internal storage. Fortunately, this can be expandable up to 256GB through a microSD card.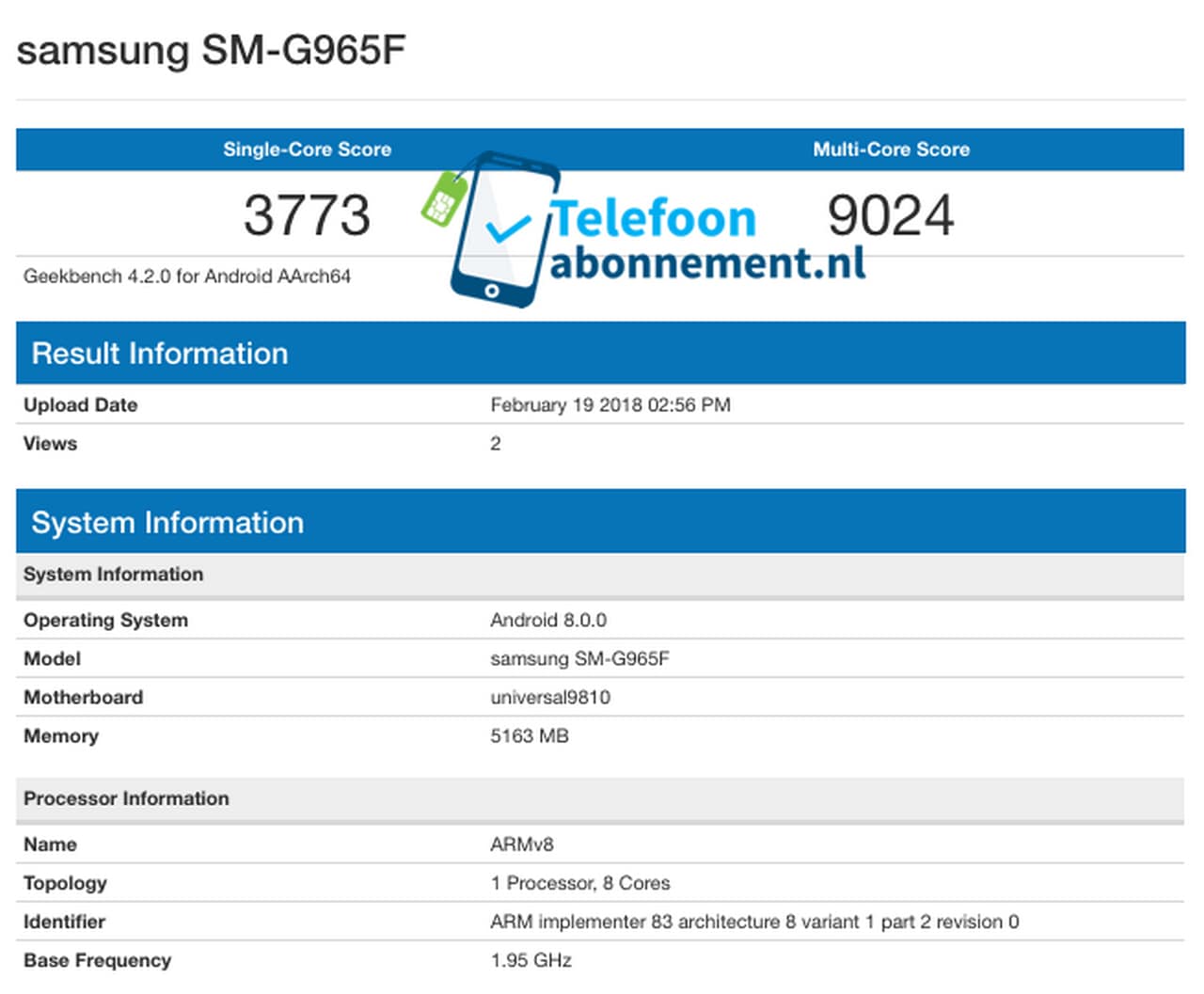 Image Courtesy: Telefoon
In the optics department is where Samsung devices score major points and these phones will be no different. The company has been constantly teasing about its single camera with the '9' in their teasers. Can it actually pull off better images than the Pixel 2, which honestly no device currently available on the market can? Well, maybe. As recent rumors have stated that the cameras on the Galaxy S9 will feature a dual-aperture, as compared to single aperture sensors available on all other phones. In layman's terms, a lower aperture stoppage value will result in better low-light images. The camera on Samsung's upcoming offerings will be capable of changing aperture values as per lighting conditions. This would allow for better low-light images, vibrant and colourful images with good lighting and sharper bokeh shots. If you're still concerned about the megapixel count, the S9 will come with a 12MP rear-facing camera and an 8MP front camera. The rear camera on the S9 and both sensors on the S9+ will come with optical image stabilization, so videos will be crisp clear. It is also likely for the S9 and S9+ to allow for 4K 60FPS video recording which is currently only found on the 2017 iPhone lineup.
On the software side of things, the phone will come with a heavily skinned Android Oreo out of the box, which Samsung calls as the Samsung Experience. Now, this isn't the most pleasant interface to use, especially if you are someone who is used to stock Android. However, the South Korean company has worked to make its interface less bloatware filled over the years and credit must be given where due. That being said, the Samsung Experience does come with some added functionality that cannot be found on stock Android and can prove quite helpful in your daily use. The Galaxy S9 and S9+ just wouldn't be complete if it didn't offer an alternative to every software feature its closest rival has to offer now, would it? With that, Samsung will introduce its own take at Apple's Animoji and FaceID. As you can see in the images, the black bit above the screen contains quite a few sensors. This definitely should allow for better face-unlocking and Samsung's 3D Emoji.
To summarise it up, let's consider what size of a hole it's going to burn in your pocket.
Spoiler alert: It's going to be huge.
As per recent leaks from popular leakster Evan Blass, the Samsung Galaxy S9 bear a price tag of €841 (approx. Rs 67,000), whereas its bigger sibling will cost €997 (approx. Rs 80,000). Do keep in mind that this is probably the gross pricing. The actual Indian price may be even higher considering the increase in taxation for imported electronics that the government has recently imposed.
Pricing. pic.twitter.com/wu4GlK1FCU

— Evan Blass (@evleaks) February 22, 2018
Despite some of its shortcomings inclusive of its exorbitant price, the upcoming Galaxy smartphones will still be one of the top-selling smartphones in no time. How excited are you for these smartphones? Stay tuned as we bring you updated price and specifications for these phones when they launch at MWC 2018.